.. according to me. I know, it's a bit outdated because raya was 3 days ago, but I've got so much to share, so I'm putting this up anyway! In my family, Eid is very different now than it was, say, 6 years ago. That was when we all still had both of our sets of grandparents in the north and we'd spend a whole week with them. Yes, there's the
14 things to do on Eid
, but does it end there?
We did these on raya (ALOT of pics) >>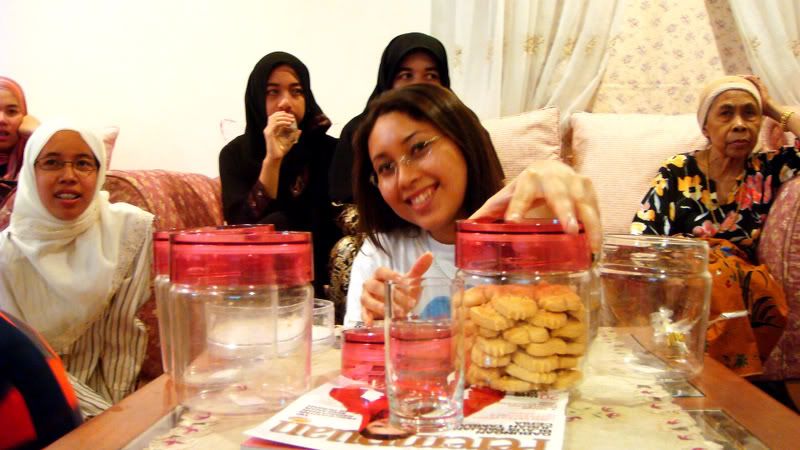 We watched tv while arranging kuihs in the glass container. (Watching tv=all of us, arrange kuih= kak Nadia)
We call ourselves 'the Zains' after my grandpa. All of us are the Zains, as long as you're married to a Zain, or born to a Zain will automatically make you a 'Zain'. You'll hear lots of 'the Zain' when hanging out with us. The picture above is some of my cousins. From left, me, Kak Nadia, Aishah, Kak Alia and Kak Afira. People have said before that we have the same nose, what do you think?
We went to Starbucks to kill time and catch up with Zain stories.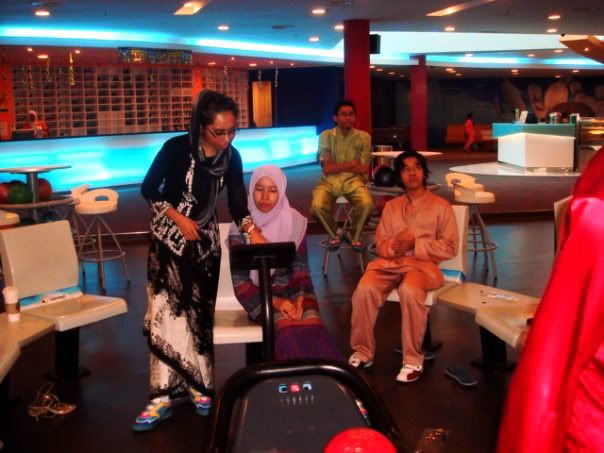 Then we played bowling. In baju kurung and baju melayu, no less. Applaud, people. Semangat raya sejati..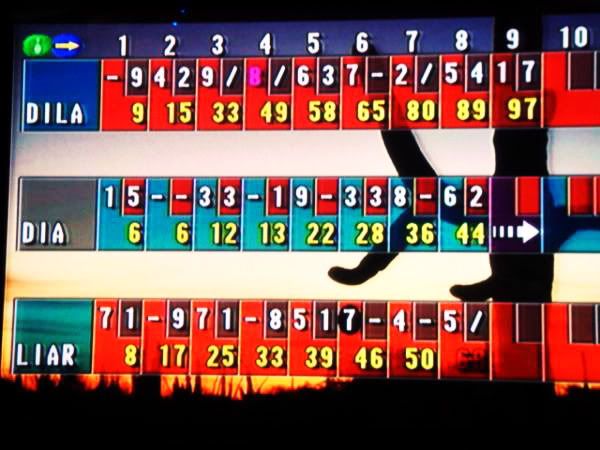 My brother was the one who keyed in the names. Kak Alia was liar. Basically, we were all champs in bowling hence the fantastic scores.
From left: Shahirah, Liyana, Me. This kid is our 2nd cousin whom we've never met our entire lives. So when we met her, we were all like, "oh my gosh she looks like SURI CRUISE." And all of a sudden we started going crazy taking pictures with her as if she were Suri Cruise. There were about 3 dozen pictures of her with us and if I were to put all of it here, you'll start thinking she is Suri just like we did.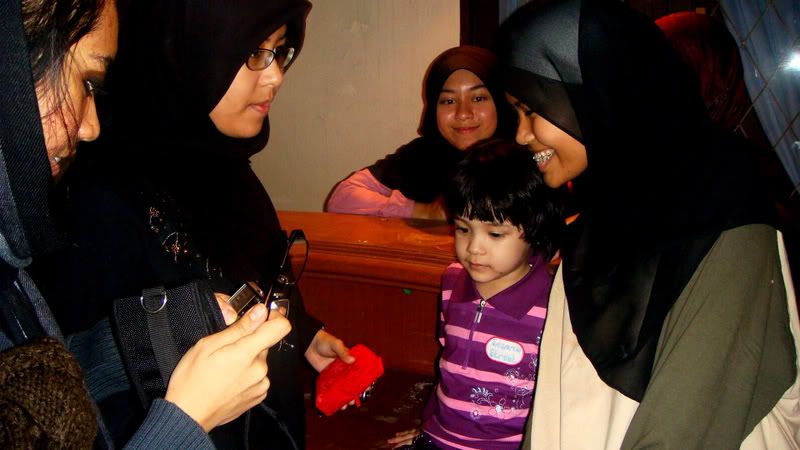 Our adoration for Liyana a.k.a. Suri Cruise.
That night we celebrated Kak Alia and Azim's birthday. Note the sparklers (bunga api), we had to substitute them every time they finish and that's like every minute. Owh the price for a lifetime of memories.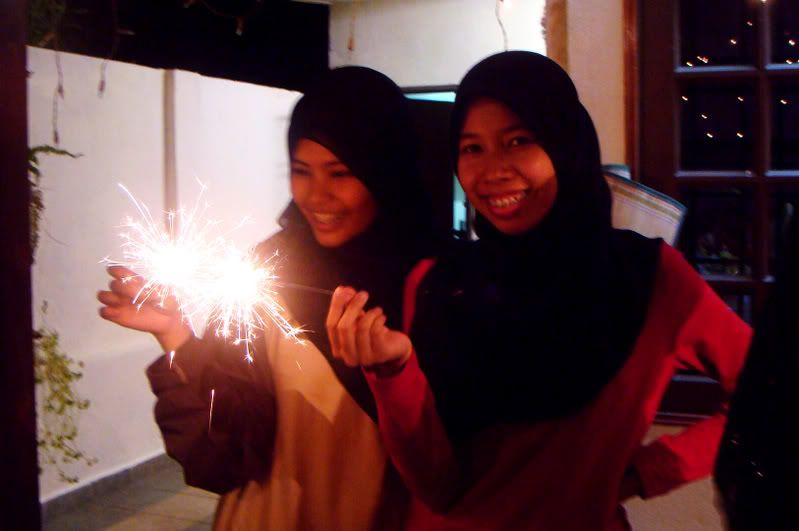 Aishah and me. By the way, she isn't touching the sparks. Are you crazy?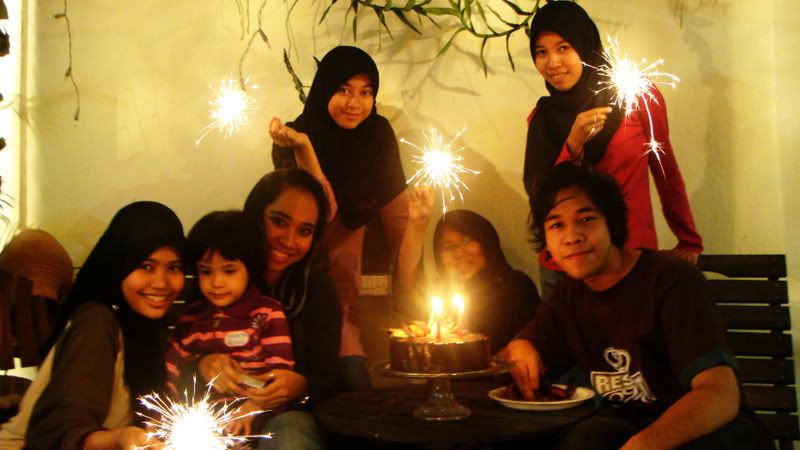 One of my favorite pictures. I got tired of replacing the sparklers on the cake and each of us just held on to one.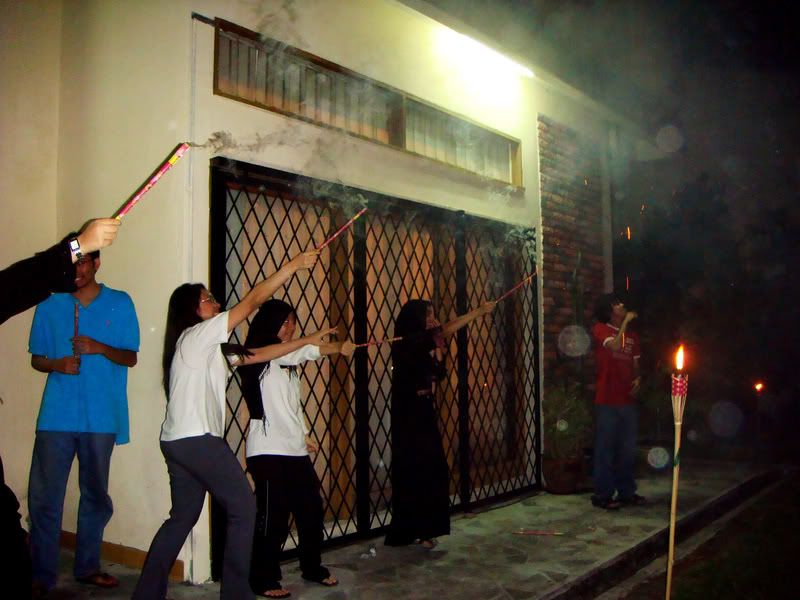 After cutting cake, we played firecrackers. Sparklers are for babies. Everyone's holding mercun das in this one. I played photographer.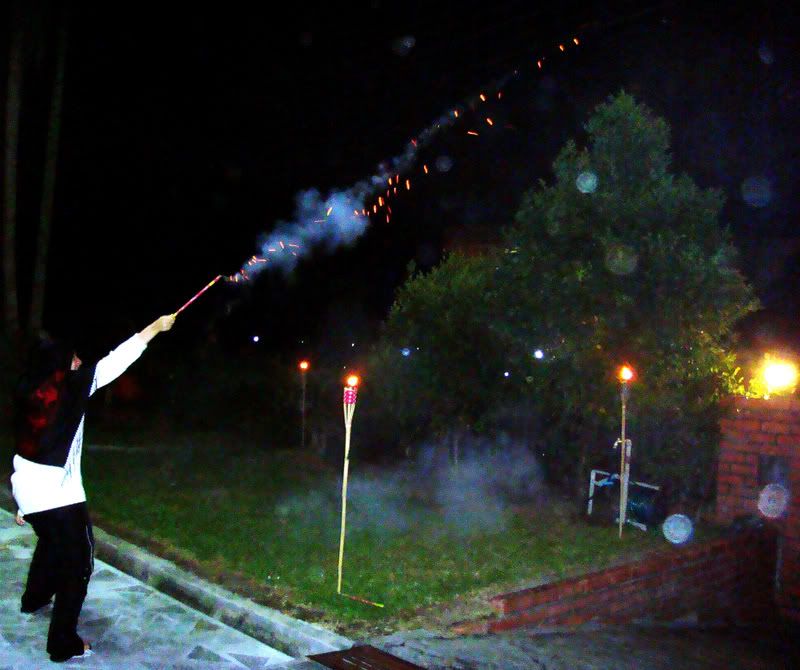 Shahirah looks so much like a wizard in Harry Potter, I just had to put in this picture. There's no special effects here.
For those who are alarmed about this picture, we're not women Taliban or training to be one. Besides, those aren't bazookas. We're just girls on Raya high.
Just a cool picture.
A video of us girls blasting firecrackers in the barbeque grill!
For those who were wondering, that was basically how I spent my Eid Mubarak. My parents weren't around, they only came back the next day. It was my third year celebrating raya without my dad, mom and brother, but this year my brother's with me. Initially I was bummed out because my trip to Pakistan was canceled due to the recent bombing, but I got over it.
My favorite raya food is ketupat and rendang (so cliche). I'm wondering what's everyone else's?